History of Jodhpur is quite exciting as many powerful kings have ruled this city.
Due to the influence of those kings it has a large number of palaces, temples, lakes and historical places.
People of Jodhpur are still connected with their ancient culture, royal songs (Marwari Geet), royal jewelries and their hospitality.
Let's start Jodhpur History article with history of Name "Jodhpur"
Rao Jodha is credited with the origin of Jodhpur.
Jodha conquered the territory and founded a state in 1459.
Jodhpur was at first known as Marwar. Mondore was capital of the state Marwar.
The city is named after him.
History of Jodhpur City
According to Rathore tradition, the caste traces its origins back to the Hindu god, Ram, hero of the epic Ramayana. The Rathores belong to the Suryavansha caste of the Kshatriyas (the warrior caste of Hindus).
In 470 A.D. Nayal Pal conquered the kingdom of Kanauj (near modern Kanpur in Uttar Pradesh). It remained Rathore capital for 7 centuries. In 1193 Kanauj fell to the Afghans led by Muhammad Gauri.
A ruler Jai Chand fled from Kanauj but was drowned in the Ganga. But his son Sihaji had better luck and he came to Pali (near Jodhpur).
Sihaji married with the sister of the then local prince and it enabled the Rathores to establish themselves in this region.
They prospered to such a degree that in 1381 Rao Chanda managed to oust the Parihars (A Mali caste of Jodhpur) of Mandore. Rathore fortunes then turned for better.
Rao Chanda's son and heir, Rainmal, won praise for his capture of Ajmer and inherited the Mewar throne of Chittor. In 1438 he was doped with opium, and finally shot dead.
This triggered bitter feuds, ending with Mewar and Marwar becoming separate states.
Rao Jodha, one of Rainmal's 24 sons, fled Chittor and finally 15 years later recaptured Mandore in 1453. Five years later he was acknowledged as a ruler.
A holy man (Sadhu Sant) advised him to move his capital to hilltop for safety.
By 1459, it became evident that a more secure headquarters was required. The high mountain 9 Km to the south of Mandore was an obvious choice for the new headquarter.
Rao Ganga Singh of Jodhpur (reigned 1516-32) fought alongside the army of the great warrior king Rana Sanga of Mewar against the first Mughal Emperor Babur.
But over the next half century, the rulers of Jodhpur allied themselves with Babur's grandson, Akbar.
Several rulers of Jodhpur became trusted lieutenants of the Mughals, such as Raja Surender (who conquered Gujarat and much of the Deccan for Akbar) and Raja Gaj Singh (who put down the rebellion of the Mughal prince Khurram against his father Jahangir).
With the support of the Mughals, the court of Jodhpur flourished and the kingdom became a great centre of the arts and culture.
In the 17th century Jodhpur became a flourishing centre of trade for the camel caravans moving from Central Asia to the parts of Gujarat and vice versa.
In 1657 Maharaja Jaswant Singh (reigned 1638-78) backed the wrong prince in the great war of succession to the Mughal throne. He was in power for almost twenty-five years with Aurangzeb before he was sent out to the frontier as viceroy in Afghanistan.
Aurangzeb then tried to seize infant son of Maharaja Jaswant Singh, but loyal retainers smuggled the little prince out of his clutches, hidden in a basket of sweets.
The kingdom of Jodhpur then formed a triple alliance with Udaipur and Jaipur, which together threw off the Mughal yoke.

As a result, the Maharajas of Jodhpur finally regained the privilege of marrying Udaipur princesses something they had forfeited when they had allied themselves with the Mughals.
A condition of these marriages, however, was that the sons born of the Udaipur princesses would be first in line to the Jodhpur throne. This soon led to considerable jealousy.
Nearly a century of turmoil followed. The state of affairs was such that a young Rathore prince, when asked, where Jodhpur was simply pointed to the sheath of his dagger and said "Inside here".
In the 1870's Sir Pratap Singh a son of Maharaja of Jodhpur, he himself ruled a neighboring kingdom called Idar, abdicated to become Regent of Jodhpur, which he ruled for nearly fifty years.
Sir Pratap Singh was a great warrior and the epitome of Rajput chivalry. He became an intimate friend of three British sovereigns.
At Queen Victoria's durbar he is said to have presented her not with mere jewels, like everyone else, but with his own sword, his most valuable possession as a Rajput warrior.
Sir Pratap Singh laid the foundation of a modern state in Jodhpur, which Maharaja Umaid Singh (reigned 1918-47) built upon.
During the British time, the state of Jodhpur was the largest in Rajputana by land area and its merchants, the Marwaris, flourished without limit and came to occupy a position of dominance in trade across India.
The kingdom of Jodhpur was not merely the largest of the Rajput states, but also one of the most progressive.
In 1947, at the time of partition of India and Pakistan, ruler of Jodhpur Hanwant Singh did not want to join India.
But finally due to the effective persuasion of Sardar Vallab Bhai Patel, the then Home Minister of the centre, the state of Jodhpur was included in Indian state of Rajasthan.
(Source)
History of Jodhpur Kings
After Rao Jodha this city has been successfully ruled by many kings of different times.
Maharaja Gajsingh (1953) is the present king of Jodhpur and he is taking the Royal Family of Jodhpur to a new height.
Here is the list of Kings of Jodhpur: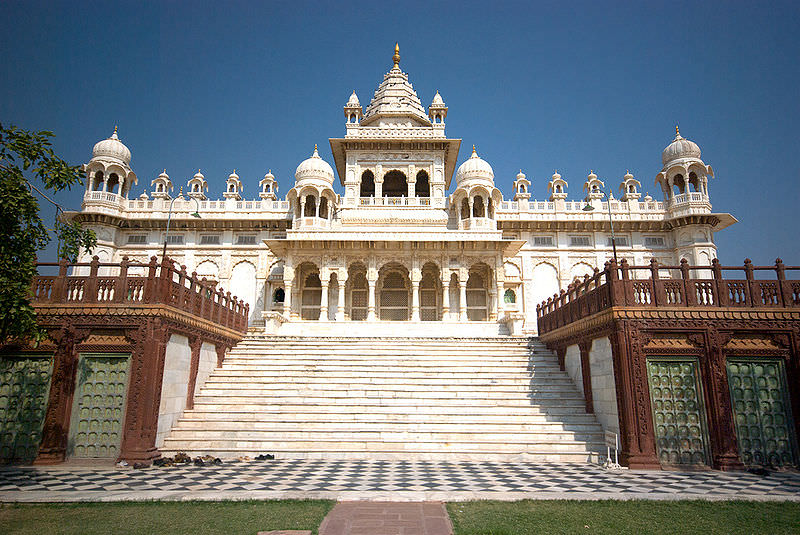 Rao Jodha 1438-1488
Satal 1488-1491
Suja 1491-1515
Ganga 1515
Ganga (II) 1515-1531
Maldeo 1531-1583
Raja Udaya Singh 1583-1594
Raja Sura Singh 1594-1619
Raja Gajsingh 1619-1637
Raja Jaswant Singh 1637-1680
Raja Ajit Singh 1680-1724
Maharaja Abhi Singh 1724-49
Maharaja Rama Singh 1749-50
Maharaja Bhagat Singh 1750-52
Maharaja Bijej Singh 1752-92
Maharaja Bhim Singh 1792-1803
Maharaja Man Singh 1803-17
Maharaja Chatter Singh 1817-18
Maharaja Man Singh 1818-43
Maharaja Takhat Singh 1843-73
Maharaja Jaswant Singh (II) 1873-95
Maharaja Sardar Singh 1895-1911
Maharaja Sumer Singh 1911-18
Maharaja Ummed Singh 1918-47
Maharaja Hanwant Singh 1947-53
Maharaja Gajsingh (II) 1953
(Source)
History of Jodhpur Royal Family
King of Jodhpur: Maharaja Gajsingh II
Mother of Maharaja Gaj Singh II: Rajmata Krishna Kumari
Wife of Maharaja Gaj Singh II: Maharani Hemlata Rajye
To know more about Jodhpur Royal Family click here.
Wrapping Up Jodhpur History…
As you have seen Jodhpur had many up and down time but the powerful kings managed to survive it.
Those fluctuations, in the times gone by, made long lasting impressions on the city of Jodhpur.
Today it is second largest city in Indian state of Rajasthan.
It is a world known tourist destination attracting a large sum of tourists to explore it.
What else are untold stories of Jodhpur history? Let me know 🙂