Have you seen Newspaper Ads written with big word "Classified" on it?
You might have seen it more times than you can count…
These ads wanted you to buy their services and products.
But…
Truly, how many times have you actually called and inquired these ads.
Probably 1 in 1000 times, or it may be the case that you yourself have never inquired a single advertisement.
Suppose, you want to advertise in classified section of newspaper ads. What's the probability that others will inquire your ad?
Neither you nor newspaper ad specialist himself can guarantee anything.
There are so many factors that affect response rate. Some of them are:
Headline of ad
Body of ad
Use of picture in ad
Correct use of colors
Attention grabbing words
Ad above the fold or below the fold
Simplicity of your ad copy
Use of benefits in your ad copy
Presence or absence of scarcity
The flow of ad
etc. etc.
To test all these factors, you will have to waste so much money that you may start questioning…
What's the problem?
Well, it comes out that newspaper ads have many of them.
Problems of Newspaper Classified Ads
So much has been said about "Why Newspaper Ads are not Effective?". Here is a list of International Brands and their thoughts about newspaper ads:
And, here is a list of some of the most common problems with newspaper classified ads:
Classifieds are over populated. It is hard to stand out in classifieds. Your ad and other ads look similar. There is very little you can do, other than paying for more space.
They are not ecofriendly. Thousands of papers are wasted in classified ads every day.
They convert rarely. Due to so many factors discussed above, you can't say whether your ad will be successful or flop.
There is no data how many people saw your ad. You cannot find out whether people read your ad or not.
Once printed, game over. To make improvements you have to place new ad.
Limited space make ads expensive.
You can advertise only to local people (Actually a fraction of local people, because no single newspaper has 100% of Jodhpur readers). If someone is not in Jodhpur, he cannot read the newspaper and hence cannot read your ad too.
And the scary part:
It is getting worse every day.
So to make things better…
We have launched Online Jodhpur Classified Ads for Jodhpur People.
It is fully automated system. You can create your account (UPDATE: This service has been closed temporarily, check back later, Thanks) now and post ad yourself.
And, if you need any help, we are available to help.
Why should you advertise on Suncity Jodhpur Classified Ads?
Drive traffic to your website
Get backlink from SuncityJodhpur.com
It is 100% eco-friendly. There is no use of paper.
You can easily stand out in online ads.
You can find out how many people read your ad.
You can edit your ad and improve it as you need.
You can view these ads from mobile, smartphone, desktop etc.
It is FREE to post ads. We are charging money only for images because it cost us money.
Customers are from Jodhpur to America. There is no location problem. Everyone can access Suncity Jodhpur.
If your business do not have a website, then use our website to attract online customers. it is totally FREE.
How to Advertise on Suncity Jodhpur Classified Ads?
Let me show you step by step, how to post your advertisement. For the purpose of this example, let's create our account with user 'solankiwebmarketing'.
Go to our Online Jodhpur Classified Ads Page (NOTE: Service closed for now, check back later).
This page will appear in front of you. Click on Place Ad.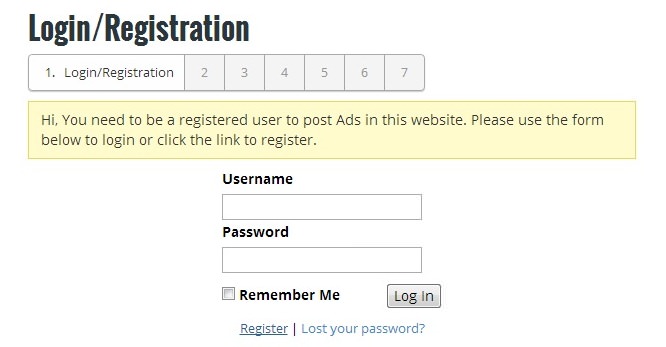 On this page click on Register It will take you to registration panel. Or you can directly go to Registration Panel.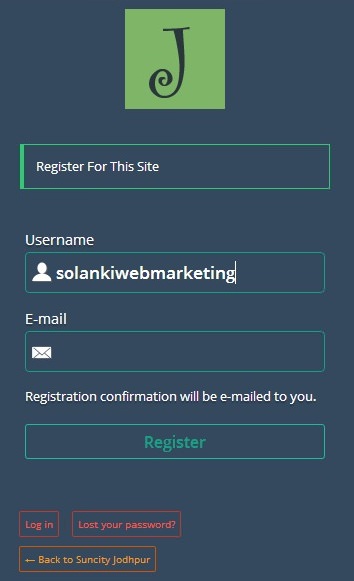 On this panel, enter a username and email. Make sure email is correct, the confirmation link will be sent to this email. Now this screen will appear.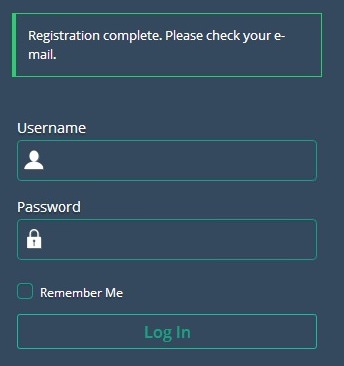 Go to your email inbox and you will receive this email.
Open this email. This screen will appear. Click on the link.
Now this screen will appear. Enter a password.
After entering the password, click on Reset Password.

Now this screen will appear. Click on Log In.
On this screen, enter your username and password to Log In. Press Log In.
You will be redirected to your profile section. Enter your details if you want to. It is totally optional. Click on Ad Management.
You will come on this page. All your ads will be displayed at this page. Click on Place Ad button to add new advertisement.
On this page select a category. I am selecting 'General'. You should select most relevant category. Select a Payment type. I am selecting Premium Ad. Click on Continue.
Now add details of your ad. Enter your full name, your phone number, Email (if you have), title, website (if you have), full address of your business and details of advertisement. Add price for item otherwise leave this empty. Agree our Term of Service and click on Continue.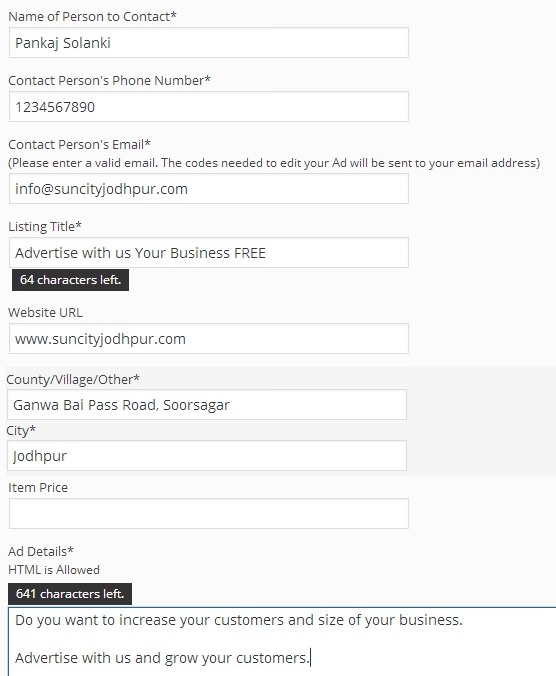 Next, upload images. In Platinum plan you can add 5 images; in Gold plan you can add 3 images; in silver plan you can add 1 image; in free plan you cannot add any image. Select a file from Add Files and click on Start Upload. Once you do this, click on Preview Ad.

Our preview screen will show you, how your ad will look. If you want to change something, click on Edit Details. If you want to change images, click on Manage Images. If everything is fine, click on Finish.
For FREE ads, your ad will be posted after this step. For paid ads, you will be asked to pay now. On this screen press Continue.
Now on this screen click on Check Out with Paypal.

Now this new screen will appear. Enter your billing details and click on Pay. Today nearly everyone has credit card, so we accept credit cards now. If you do not have, use help from E-Mitra or Internet Cafe.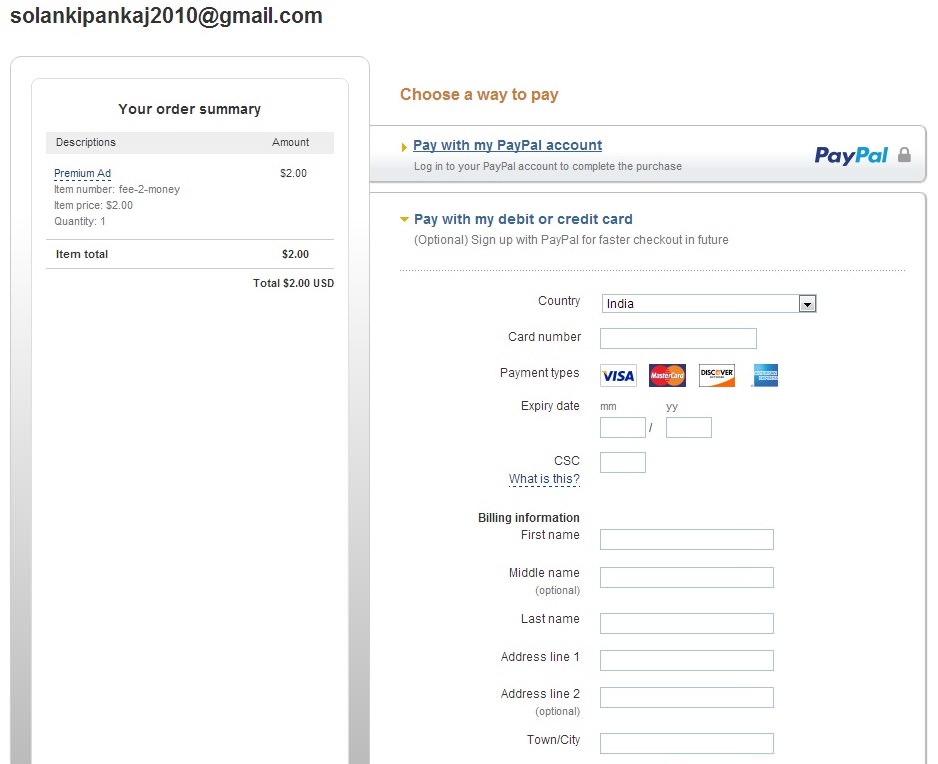 Once you finish this step, you will return to our website and finish the process.
Now, your ad details will be emailed to you. Once our moderator approves your ad, your ad will be live. It can take from 1 hour to 24 hours. Once approved, you will get a confirmation email. This step helps us maintain the quality of this network.
The same process is followed for credit system.
Online Classified Payment System
We have two system for payments:
1. Pay per Ad
In this type of system, you can just pay and post ads. You will be charged as you post ads. It is best for those who do not post regularly. There are 2 Plans under this:
FREE Ad: Post your ad FREE or 0 credits. It will be available for 15 days.
Premium Ad: Post your ad for Rs. 120 ($2) or 4 credits. It will be available for 1 month. 1 image is allowed.
2. Credit System
For our large customers, this system is the best. You pay for credits. Then, use these credits to post ads. You will get bonus credits for large packages. There are 2 credit plans:
Standard: Get 12 credits for Rs. 300 ($5)
Professional: Get 32 credits for Rs. 900 ($15)
Online Classified Ads are more economical than old newspaper ads. Newspaper rates (at the time of writing this) are Rs. 550 per 20 words and ad appears for only one day. So practically our ads are within your budget.
What to do next…
I hope, this guide will help you to take your business on new level. You now know what to do and what not to do.
We are starting initially with few categories. As we expand more and more categories will be introduced.
If you want to post your ad in a category and it is not listed, ask us to add it.
If you have your own business and services, start advertising (NOTE: Service closed for now, check back later) with us now. Also, tell your friends and relatives about Online Jodhpur Classified Ads and its benefits.
If you have any questions, recommendations and feedback. Tell us in comments below.
Namaste,
Pankaj Solanki